RSHE (Relationships, Sex and Health Education)
What is Relationships, Sex and Health Education?
There are four main aims for teaching RSHE within the context of Primary School PSHE (Personal, Social, Health Education):
To enable young people to understand and respect their bodies, and be able to cope with the changes that puberty brings, without fear or confusion
To help young people develop positive and healthy relationships appropriate to their age, development etc. (respect for self and others)
To support young people to have positive self-esteem and body image, and to understand the influences and pressures around them
To empower them to be safe and safeguarded
What will my child be taught in Relationships and Health Education?
The JIGSAW scheme also includes relationship and health education units of work aim to give children their entitlement to information about relationships, puberty, and human reproduction, appropriate to their ages and stages of development. This work is treated in a matter of fact and sensitive manner to allay embarrassment and fear and helps children to cope with change, and to learn about families, friendships, and healthy relationships. Please note, at no point will a child be taught something that is inappropriate. Any questions asked outside the remit of that year group's programme, would not be answered.
RSHE is taught over a whole term in Key Stage 2 through the Changing Me element of the JIGSAW curriculum; each year group will be taught appropriate to their age and developmental stage.
Correct terminology for body parts is introduced to normalise biological vocabulary and to support safeguarding. These words are not used in isolation but always in conjunction, ensuring children know these are private parts of their bodies.
Parents will be informed of the teaching of RSHE prior to the delivery and will be provided with resources upon request to support their child with their understanding of this vital part of the RSHE curriculum.
Any concerns or queries about RSHE will always be taken seriously and will be dealt with and supported by either the head of school or PSHE lead of the Infants or Junior site.
Year Group Coverage for RSHE units (Juniors only)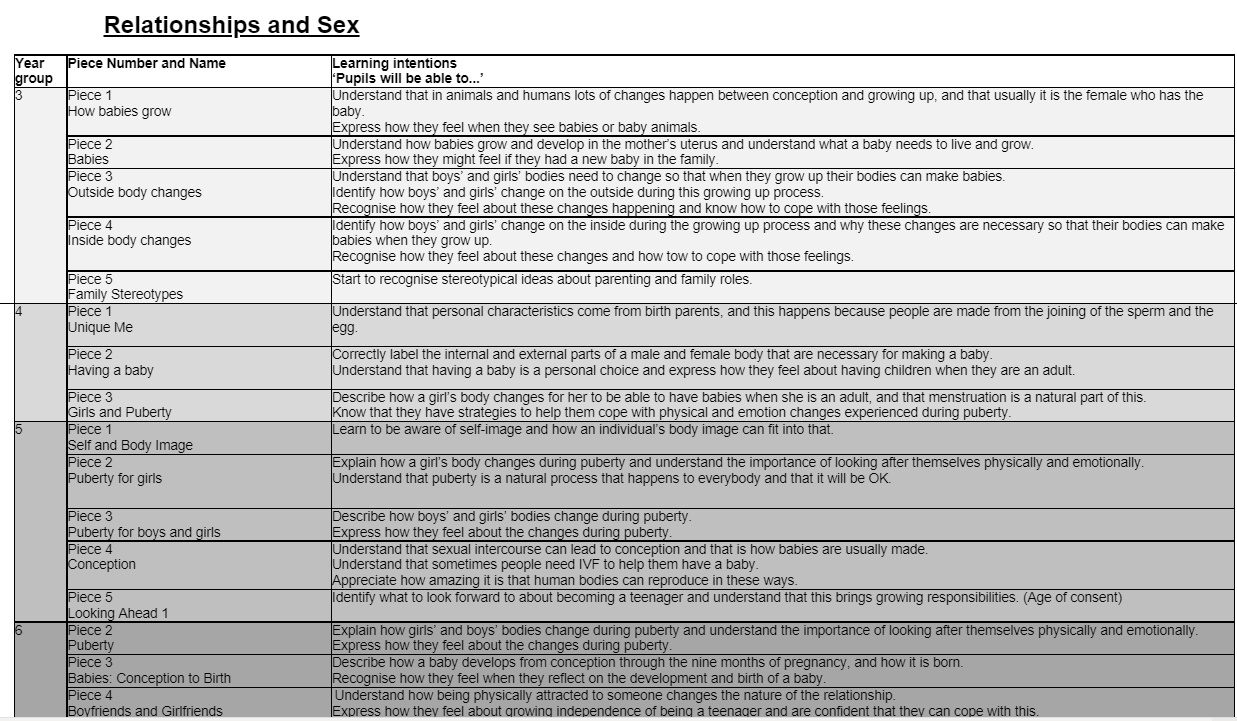 Relationships Education, Relationships and Sex Education (RSE) and Health Education
Link to PSHE National Curriculum